AGENDA

LES RAMONEURS DE MENHIRS
mar 19 Nov 2019 - horaire : 19h30

-

23h30

-

22€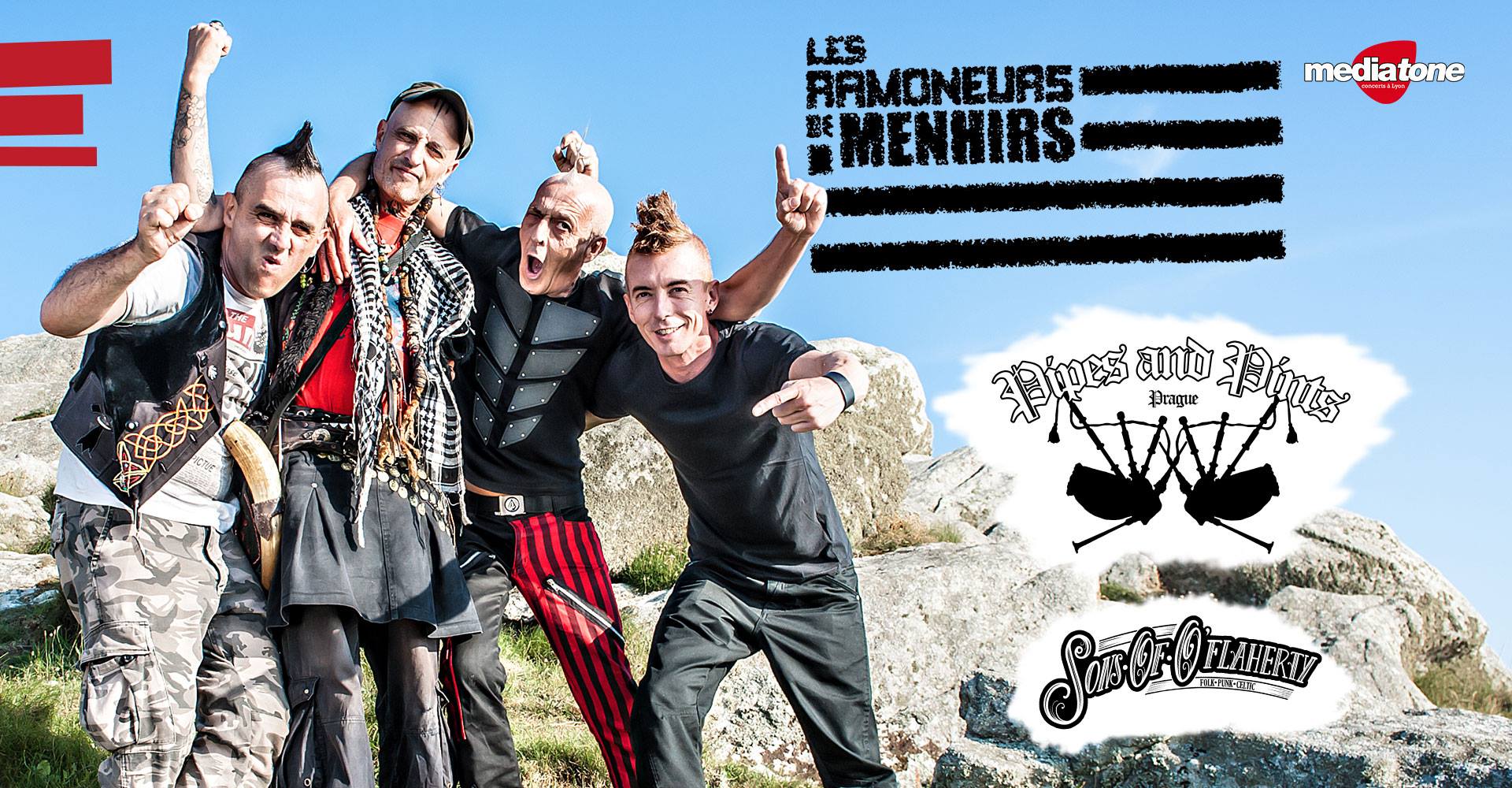 Mediatone – Concerts à Lyon présente, en accord avec Rage Tour – booking agency (France) :
Les ambassadeurs bretons des Ramoneurs de Menhirs menés par Loran des Béruriers Noirs, Les tchèques de Pipes and Pints et les Sons Of O'Flahery s'associent pour un plateau détonnant !!
Un cocktail à base de cornemuses, de violons, de binious et de guitares survitaminées pour une ambiance assurée.
LES RAMONEURS DE MENHIRS
Trois ans après « Tan ar bobl », le feu du peuple est loin de s'éteindre, et LES RAMONEURS DE MENHIRS sont heureux de présenter en 2017 le fruit de leur rencontre avec le Bagad Bro Kemperle : BREIZHANOK. Un quatrième album explosif et plus revendicatif que jamais, en ces temps menacés par l'ombre bleu marine de l'ennemi trumpoutine. Un album sanguin (« gwadeg »), porté à vif et sans détours par les quatre anarchistes enflammés et le bagad aux ceintures rouges. A l'instar de l'incontournable Louise Ebrel (propulsée dans un délirant et symbolique « Pach-punk »), les musiciens ont joint leurs énergies électrisées dans des danses endiablées, des échanges osés, des chansons assumées, des valeurs partagées, des clins d'oeils au passé, des futurs espérés.
BreizhAnok : Brittany, Anarchy, Fraternity !

Sons Of O'Flaherty

CCO 39 rue Georges Courteline, 69100 Villeurbanne
Tarifs Préventes : 20 €* (réduit) / 22 €* (normal) *+ frais de loc.
Tarif Guichet : 25 €
Le tarif réduit est disponible sans conditions chez nos partenaires billetterie : Kraspek Myzik et Livity Records